If you're interested in being one of our Book Blogger Besties, let me know. We're open to all book-related sites and blogs. Doesn't have to be romance. If you're one of our BBB's, we promise to try to regularly tweet and share your posts. And, of course, we hope you'll reciprocate. All we ask is for you to display our blog button (code below) somewhere on your site! :)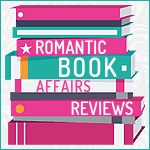 If you're already linking to us and I'm unaware – send me an email and I'll correct this oversight! 

Now, check out our Book Blogger Besties! These ladies write wonderful reviews and are just pretty darn awesome in general. I highly recommend visiting their sites!